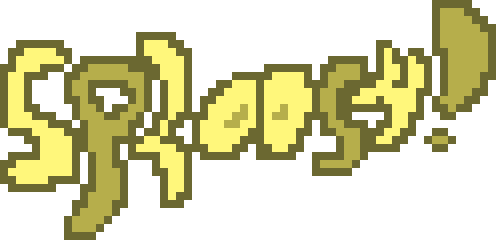 Sploosh!
Sploosh!
A lowrezjam 2016 entry made in GameMaker:Studio.
It's a little prototype game, where you control your diver to collect as much treasure as you can, and get back to your raft before it floats away.
The more treasure you pick up, the bigger and heavier your bag gets, and the more it weighs you down.
Clams can bite, eels can shock, and the crabs can nip, so best avoid them.
Bubblers can at least replenish your oxygen a bit - if you can find them!
Arrow keys to rotate and accelerate/decelerate. ( Tap! )
Space will force the raft to move on ( when you're on it, ) if you think you've gathered enough treasure for the day. Left/Right will jump off the raft.
Left bar is your oxygen, and the right bar is how much time you have left - which is where the raft is across the screen.
It's a bit clunky.. but would certainly like to return to it at some point if there's interest. Total time spent was probably 5 days on and off. Enjoy!

Web Version added 21st April.. and is just a direct export using the HTML5 module with no changes ( which makes me wonder why the right bar is in a bit, but oh well )
Download
Click download now to get access to the following files: